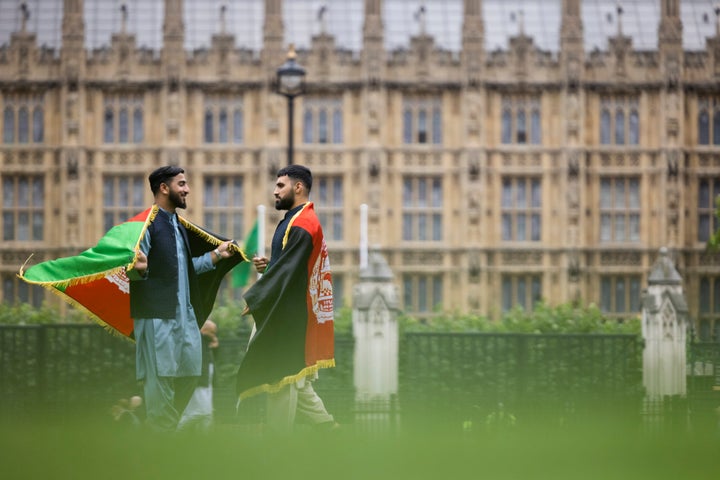 The pictures and videos of people in Afghanistan desperately trying to leave the country while the Taliban have taken control shocked and heartbroken us all.
The government has been heavily criticized for setting a target of 20,000 refugees to be relocated to the UK.
So if you were wondering what you can do to help Afghan refugees from the UK, you've come to the right place.
Barcroft Media via Getty Images
Protesters are protesting against Taliban and demanding human rights in Afghanistan on Parliament Square, while MPs debate the crisis.
Caroline Haworth is CEO of Womankind Worldwide, a UK charity that works with women's rights organizations around the world. She was particularly concerned about the "rapidly evolving" situation in Afghanistan and said the government needed to do more to help women at risk.
She suggests a few ways that people can help.
1. Research
Learning more about the history of the country and the current situation from trusted sources will help you better understand what is going on.
It also means that you will be able to educate friends and family who are talking to you about Afghanistan and what is happening there.
Try one of our own explainer by clicking here.
"Exceptionally courageous female human rights defenders – who were at the forefront of the struggle – are now exposed, defenseless, and very vulnerable."
– Caroline Haworth, CEO of Womankind Worldwide
2. Reinforce voices from Afghanistan
Womankind Worldwide recommends finding local voices on social media to support you.
"Listen to the voices of local women. Enhance the voices of Afghan feminists through social media. "
Caroline says it is especially important to raise the voices of Afghan women because women's rights in the country are under threat.
3. Call your MP. on
By writing to your MP, you have the opportunity to put more pressure on the UK government to do more to help Afghan refugees.
Caroline recommends adding in your letter that Afghan women, activists and negotiators should not be excluded from UK relocation plans.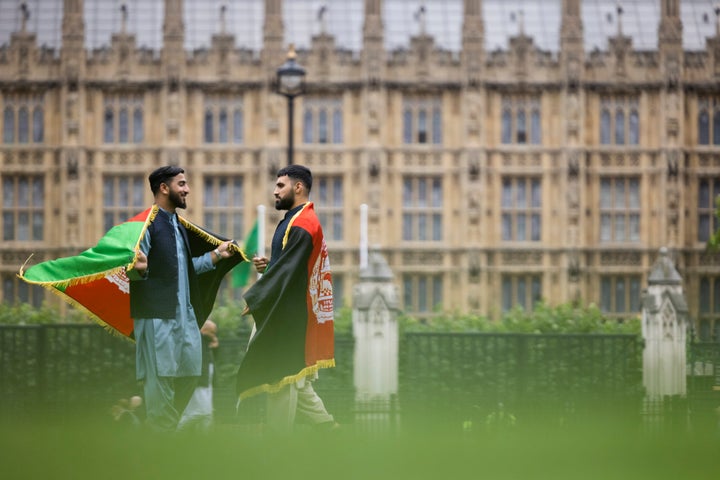 Dan Kitwood via Getty Images
A group of protesters against the Taliban takeover in Afghanistan gathers in Parliament Square.
4. Take part in a demonstration
You can attend a local demonstration to show solidarity with a larger group of the public about how you feel about the government's handling of the situation in Afghanistan.
Participation in public events can visibly show the government how many people are interested in what is happening.
5. Look at what organizations are doing in Afghanistan
Womankind Worldwide recommends checking out some other women's rights organizations they work with that share important information:
You have also worked with a number of local organizations in Afghanistan that are particularly trying to help women, including:
Afghan Women's Resource Center (AWRC)

Afghan Women's Network (AWN)

Humanitarian Aid for Women and Children of Afghanistan (HAWCA)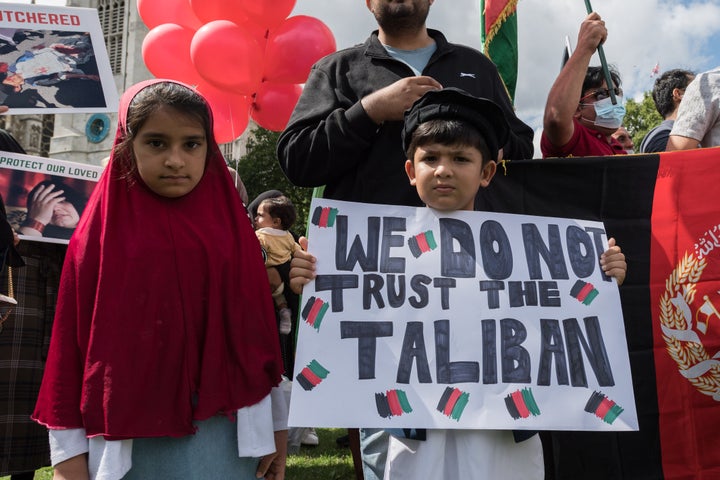 Barcroft Media via Getty Images
Children demonstrating as MPs in Parliament Square have a debate about the crisis in Afghanistan.
The UK government also offers advice on how to help refugees entering the UK. These include charitable donations, volunteering with specific charities, and community support such as teaching English or providing shelter.