Celebrities
Couple who stored 9 ponies in 'barbaric' situations, spared jail sentence.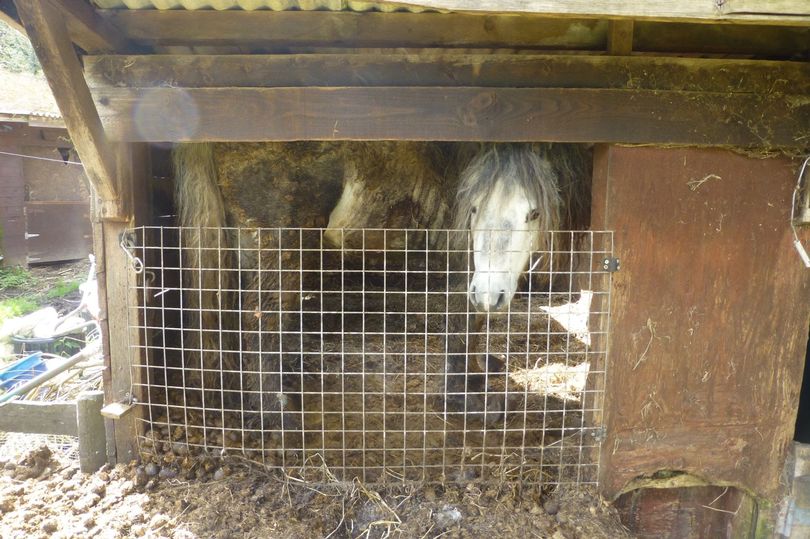 A couple who kept ponies in disgusting conditions and practically imprisoned in their stables have been banned from keeping any animals for life.
Barbara Carter, 73 and her husband, Jack, 75, neglected the animals, leaving them locked in unsafe stables so filled with faeces the stable door could not be opened.
The ponies themselves had matted fur, overgrown hooves, sores and were unable to stand up properly. They also displayed disturbing behavior as a direct response to their horrific treatment and the conditions they had endured.
Members of the RSPCA who were responding to the case had to dig their way through litter and detritus to even get to the wooden door leading to the stables. The door itself had to be broken down as well as the wall of the stables to free the ponies from their jail.
Could you qualify for free windows & doors?
UK Homeowners could be eligible
Reduce Your Energy Bills
Free No Obligation Assessment
Increase Your Home Value
Rated #1 On Trustpilot
The RSPCA raided the Carters home after worried locals raised concerns for the animal's welfare. The state of the animals left RSPCA inspectors heartbroken at the neglect and suffering these ponies had borne.
After visiting the property in Tarleton, Lancashire, Vicki McDonald, an RSPCA inspector, said –
"had never seen anything like it in my entire career".
There had been previous attempts to investigate the pony's welfare however, Jack Cater made various excuses as to why they could not happen.
Eventually, Ms McDonalds, accompanied by Lancashire Police Officers, gained entry to the property in April 2021, only to find the couple had neglected even the most basic aspects of care for nine horses.
Vicky McDonald said initially, Mr Carter denied there were any horses or ponies situated on the site. However, when pressed on the matter, 'reluctantly agreed' to show the investigator to the stables behind the couples house'.
Ms McDonald first came across a gray pony "stood on top of deep rotting litter that had built up so much that it reached the top of the stable door."
adding
"The pony was unable to fully stand up and its back protruded through a hole in the stable roof,".
The pony had "severely overgrown feet" while its "hooves extended out and corkscrewed".
Three more ponies were discovered in the same stable with "very little room for them to move around or even stand normally,". One of the ponies backs had breached the stable roof.
Ms McDonald said: "They seemed very stressed and erratic. I noticed that all the ponies had matting to their coats.
"They also had patches of sore skin, most likely from having no option but to lie in their own filth.
"The extreme level of neglect I witnessed in this case is unlikely to ever be surpassed and will remain with me."
"To say the physical and environmental conditions of these ponies was shocking is a gross understatement. Their backs reached the stable roofs."
She went on to say how 'obvious' it was that none of the ponies had been relieved of their stable or seen by a farrier for a considerable amount of time – or ever.
After suffering for a "prolonged, wholly avoidable and totally inexcusable" at the hands of the elderly couple, all four ponies had to be put down.
A vet who also accompanied Ms McDonald told The Sun that conditions the animals had been kept in were "extremely barbaric."
Five additional ponies belonging to Jack and Barbara Carter were discovered at a property nearby, again in a "neglected state". They did have access to food and water however were accompanied by "a range of health issues".
Four of the five were put to sleep, with the one remaining being taken into care, rehabilitated and rehomed.
Ms McDonald continued –
"It was heartbreaking to find them in such a neglectful state and for them, after such an awful life, to be beyond saving.
"The extreme level of neglect I witnessed in this case is unlikely to ever be surpassed and will remain with me."
NO PRISON SENTENCE
The couple was spared a prison sentence by Preston magistrates court due to their medical needs and their age.
The magistrate presiding over the case stated that the case had crossed the custody threshold, handing the couple a 12 week suspended sentence instead.
They did, however say, had it not been for those factors, they "would be going straight to prison".
Could you qualify for fully funded solar?
UK Homeowners could be eligible
Save up to 70% on electricity
Free No Obligation Assessment
Add Value To Your Property
Rated #1 On Trustpilot
The court heard how the couple had previously approached to work with the RSPCA but refused help.
The couple has now received a lifetime ban on keeping animals and were ordered to pay £500 each in costs.